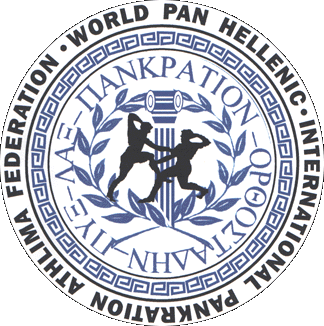 ACADAMY RULES AND REGULATIONS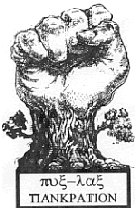 PANHELLENIC PANKRATION
ORTHOSTADIN PYX-LAX RASSEIN APALY
PANKRATION IS A LIFETIME MARATHON - THIS IS THE OLDEST MARTIAL ARTS RECORDED IN HELLENIC HISTORY IN OLYMPIC COMPETITION IN THE PAST, PRESENT, AND FUTURE . . . . . .
PRACTICE CAREFULLY AS NOT TO HURT YOURSELF OR YOUR OPPONENT
1. All students will refer to instructor as DiDaSkalos (means teacher).
2. When entering/exiting Acadamy students must say: Hereh O'Kratios
3. Students must bow before entering/exiting work area facing black belt instructor.
4. Students will behave at all times as gentlemen and athlete both inside and outside the acadamy.
5. No Pankration students will provoke violence outside the dojo or allow himself to be provoked.
6. Higher zonehs (belts) will help lower zonehs (belts) in their training.
7. All ranks students will be responsible for keeping the work area clean.
8. Students taking drugs, or consuming alcohol, or disrespect will be suspended from the acadamy.
9. Chewing Gum, Eating Candy/Food is forbidden during class.
10. Students are allowed to practice self-defense moves and attacks under supervision of instructor.
11. There are two ways to train Pankration: The Athletic and the Self-Defense Way.
12. Do not criticize other martial arts styles.
13. Students may not compete in tournaments unless receives permission from his instructor.
14. Students must practice personal cleanliness. Finger & toe nails must be kept short.
15. Pankration endima (uniform) must be kept clean at all times.
16. Students must train everyday. Must attend a minimum of 3-4 times a week and also train at home on off days a minimum of 2 hours a day.
17. No rings, watches, or other jewelry, or perfume/cologne may be worn during class.
18. Students may not enter the acadamy without shoes, untied jacket or inappropriate attire.
19. Students may not walk on the work area with shoes.
20. No forms of our Pankration System will be taught by students to non-students.
21. Students are not allowed to touch weapons, or train weapons without permission of instructor.
22. Students are not allowed to talk loud, push on another or use bad language or use angry moves.
23. Students may not wear any other endima (uniform) other than what the acadamy provides.
24. Students must wear the acadamy patches and follow belt system.
25. Students MUST learn the Hellenic Terms of the Pyx-Lax Pankration System Training.
26. All students are RESPONSIBLE for paying their tuition on time.
HOME Kratios Professor Vasilios Katsaitis