The Teachings of Dr. Moses Powell
"The Last Interview"
By Jerry Denson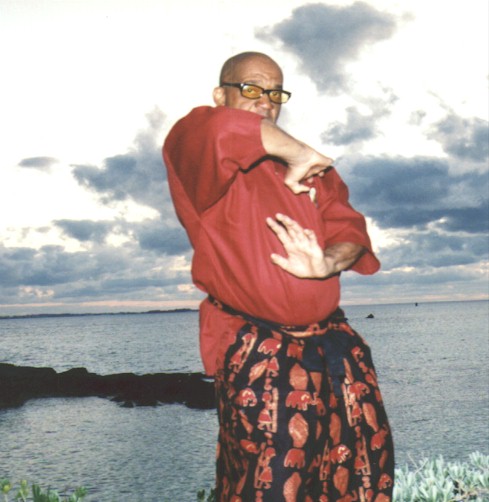 It is said, "Nothing is more honorable than knowledge." "While kings rule over the people, the learned rule over the kings. Knowledge distinguishes men from the lower animals, and it is only for knowledge that men are honored. Honor is not due to a man because of his physical strength, because a camel is physically stronger than a man. A man is not honored for his large body, as the body of an elephant is bigger than that of a man. The ultimate value of everyman lies in his knowledge." Without a doubt, Dr. Moses Powell was one of the greatest luminaries in the field of martial arts. Many will remember him for his astounding one finger roll, but I will forever remember him because of his innovative and practical approach to teaching.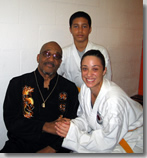 Prior to the day of his passing, it was a privilege for e to have the opportunity to speak with my instructor via phone calls, and personal visits. Deep down I felt that Dr. Powell's time with us was coming to an end. We conversed about many things; from martial arts to the enigma of life and death. One of the things he talked about most was the "love of family". Dr. Powell believed that family held the most important priority in life, next to one's personal health.
Many a time he approached me with the thought of my writing on his personal life, but unfortunately it never materialized. I once inquired from Dr. Powell what he thought about death, and this is what he replied," death is separation of the soul from the physical body. I do not fear death, and when you look at it from the proper frame of mind, death is a blessing, especially when it takes away the pain and agony of suffering." Dr. Powell reminded me that at death is upon all of us, the young, the old, rich or poor, good or evil. His last remark on the subject was," everyone should hope that their good deeds outweigh their bad deeds, because in the end that will be all that matters."
Regarding the Martial Arts styles and discipline, I asked Dr. Powell what style or discipline he considered more related to combat worthiness. This was his response: "there is really no such thing as the best style or discipline when it comes to self-defense, all disciplines have something valuable to offer and have their flaws. A student who practices karate will only help to enhance his capabilities if he or she is enrolled in a boxing class, Kung Fu class, Jujitsu or other discipline.
Each Martial Arts system should be considered a support system for all disciplines. If a judo practitioner approaches you, and applies the principle of Kuzushi, or breaking the balance, you will undoubtedly be in trouble. If you are faced with someone who's really skilled at using his legs and you are not skilled at closing the gap between you and that person, its going to be "a rough day."
When I asked Dr. Powell about grappling, he commented," grappling is very effective, but is only practical when you are fighting one person. Even when you are applying sacrifice throws this is only practical when you do not have to be concerned about a group of people attacking you. The best fighter is the one who has kicking skills, grappling skills, boxing skills, and the most important skill, the ability to remain calm in the midst of battle."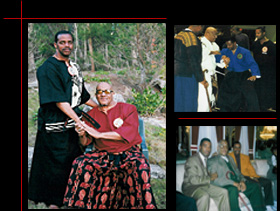 Dr. Powell expounded on the realities of Dojo training and actually defending one's self in a truly hostile environment. "There are many Dojo warriors, but very few street warriors. It takes heart to defend yourself, especially when the odds seem to be against you." Being s superstar in the Dojo means nothing unless you can apply those same quality skills in an uncontrolled, dangerous situation. Being good at performing Katas or forms and not being good at fighting is an obvious unbalance. It is my own opinion that man's greatest enemy is his own self-delusion. Wearing a belt around your waist, regardless of its color does not guarantee proficiency. It is hard work and humility of mind that molds the true warrior; not laziness and arrogance.'
In closing, I'd like to say this—Dr. Powell was truly a great teacher. He taught me that knowledge cannot be acquired except through modesty and humility. He also taught me that one branch of knowledge is a guide to another and that true knowledge purifies the mind of evil. Yes, I can still hear his words, "The Martial Arts are twenty-five percent physical and seventy-five percent spiritual."
Dr. Powell, we salute you and hold you deep in our hearts forever. From your students in Miami, Florida to others around the world, we bid you God's peace and love.
Dr. Moses Powell born January 13, 1941, in Norfolk, Virginia, was one of the World's Foremost Martial Arts Experts in Jujitsu and an Instructor to several Action Celebrities, most notably, Wesley Snipes; the Star of THE ART OF WAR as well as the BLADE Movies; died Saturday, January 22, 2005 at home from respiratory failure . Dr. Powell is survived by his beloved life mate Gina Barnett Powell, who for the last 12 years was the pillar of strength for him and his Sanuces Ryu Jujitsu System. Moses Powell was considered a living legend and shared the spotlight with Chuck Norris, in the movie, "The Warrior Within, A Tribute To Bruce Lee" and was honored in the TV show titled "Masters of the Martial Arts".

Dr. Moses Powell, was a Member of the Black Belt Hall of Fame. Dr. Powell was one of the first African American Martial Artist to Instruct Law Enforcement (DEA), Secret Service and the FBI, and was invited to demonstrate his survival techniques at the United Nations. According to K. Leigh Witsotzkey of ModeWeekly, "Sanuces Ryu Jujitsu, a Fighting Art System developed by Dr. Powell, is a unique Martial Art System that readies students for combat, rather than simply teaching form".

Although we will not have the opportunity to see Grand Master Dr. Moses Powell in action again, and witness the fluidity and effectiveness of this Art by one of it's Masters, he will always be in our memories and those closet to him will miss him dearly.
2005
ARTICLES
THE KARATE VOICE
COSMOPOLITAN FLORIDA HALL OF FAME:
THE GREEK GIVES BACK
By Jerry "The Zulu" Denson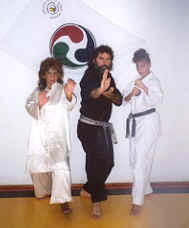 Kratios with wife and daughter
Sensei Gina Katsaitis, Kratios Master Vasilios Katsaitis, Sensei Carmen Katsaitis
The year 2000 was quite a memorable one for me. The highlight of the year was my induction into The Karate Voice Cosmopolitan Florida Hall of Fame. What made it extra special was the fact that I was afforded a photo opportunity with both of my instructors, Master Herbie Thompson and Dr. Moses Powell. There were many Cosmopolitan Award recipients from the USA and abroad. The awards banquet was well organized and accented with a performance from a vivacious belly dancer and various martial arts demonstrations. There was also a showing of Artist Gina Katsaitis' remarkable paintings. Every year one lucky martial artist is surprised with a portrait and this year it was of Professor Rick Riccardi of West Palm Beach. He was overwhelmed. There was also a painting of a martial arts family from Louisianna which also drew extrodinary comments from the audience. Without a doubt, Kratios Master Vasilios Katsaitis, his wife Gina, and his daughter Carmen have all done a great job establishing something quite vital to the martial arts community. I would also like to thank the board members for the year 2000 which are: Professor Peter Urban, Shihan Vincent Marchetti, Grandmaster Wilfredo Roldan, Professor Rick Riccardi, Greandmaster Jim Arvanitis, Master Herbie Thompson, Sijo Bill Drougas, Grandmaster Edward Badiang, Jung Shee Lacy, Carlos S. Velez II and Kratios Master Vasilios Katsaitis who is Founder and President of this organization. I personally wanted to know more about The Karate Voice Cosmopolitan Florida Hall of Fame and the vision behind it, so I visited Kratios Master Vasilios Katsaitis at his Pan-Dojo in Fort Lauderdale.

THE INTERVIEW

Q. Kratios Master Katsaitis, when was the Hall of Fame started?
A. It was started in 1993.

Q. Was the Hall of Fame your idea?
A. No, it was my wife Gina's idea. The Florida Hall of Fame was created to show appreciation to those who are most deserving of it, those who have shown good character and spirit. I remember the first time I discussed this vision with Grandmaster Frank Ruiz. He said to me, "You're putting yourself in a big mess, because some ass----s in this state will cause you the most problems while outsiders will embrace it, and that's only because you look like a new kid on the block."

Denson: Kratios Master Katsaitis, I can understand what Grandmaster Ruiz was saying. There will always be someone who is opposed to what is new, what is good. Some people will be in opposition because of jealousy and envy others will be opposed for purely political reasons.
Katsaitis: Maybe you know something I don't.

Denson: Well, I think I understand human nature enough to know that people allow their egos to get in the way of their ability to think intelligently, and for the most part it is those who are around you that will sometimes prove to be saboteurs of your good works.
Katsaitis: I agree with your comment, like I always say "The Man With One Eye Is The King Of The Blind." And like I always say "Competition is Good For The Soul".

Q: Kratios Master Katsaitis, what do you think about those who may actually be working against you by not supporting such a noble cause?
A: Well, If there are those such people as you are saying, I'm not the kind of person to hold grudges or defile my spirit with hatred of others. I would hope that one day that even those who do not support my efforts will have a change of heart and embrace the true spirit of brotherhood and become part of the The Karate Voice Cosmopolitan Florida Hall of Fame. I believe that the state of Florida has one of the strongest martial arts communities and hosts many great tournaments, and in my opinion, as well as the opinion of others nationally and internationally, one of these is The U.S. Open - which is held in Orlando every year. We also have many great Masters, Teachers and Schools. In time, with the help of all its dedicated martial artists, it will be proven to be true.

Q: What about your tournament?
A: I will let others talk about my tournament.

Q: Kratios Master Katsaitis did anyone in particular outside of your immediate family help you to get to this point?
A: Yes, besides the board members - Grandmaster Frank Ruiz, Grandmaster Frank Sanchez, Grandmaster John Pachivas, and Sifu John Schaffer. These men are the ones who deserve the greatest thanks and are the ones who truly helped me get this off the ground. And if I forgot someone, please forgive me.

Q: Kratios Master Katsaitis, tell me more about your vision concerning the Hall of Fame?
A: Well, first I have to say: "God Bless America." People came from different parts of the world to show their support. This concept is more in scope, more in depth than the receiving of a plaque. This is not local or national; it is international in scope with a universal feeling of brotherhood and companionship. We are looking like a fist - The Greeks call this Pygmee in Greek this means - courage, power and unity to form one.

Q: Kratios Master Katsaitis, can you give me at least four names that you consider are giants in the martial arts in the United States.
A: What Style?
Denson: In let's say Ju-Jitsu
A: There are many great martial artists in America and also many great martial artists that are Oriental and from other parts of the world that completed there training here. To answer your question: Michael Depasquale Sr., Wally Jay, Rick Riccardi and Dr. Moses Powell, I have great respect for all of these men for they are great martial artists and teachers.

Q: Master Katsaitis, how do you envision the Florida Hall of Fame ten years from now?
A: Be it the will of God and by hard work, The Karate Voice Cosmopolitan Hall of Fame will flourish in the future. The journey of a thousand miles begins with one step and it is with one step at a time that my vision will unfold.

Q: Master Katsaitis, I noticed at the awards banquet that all the recipients were allowed to address the audience. Something that I don't see quite often at other Hall Of Fame's. Was there a specific reason for that?
A: Yes. I wanted everyone to have the opportunity to have a few minutes to express his or her feelings about the martial arts and to give us a brief history about himself. It is good to know what people think to understand their philosophy of life.
Denson: And I believe if some of those try to trick us into believing something that is not true, he is fooling himself in front of everyone.
A: Very true, but our board members are very proficient in checking the nominees background and if something comes up in the future on any of these they will be removed from the list of inductees.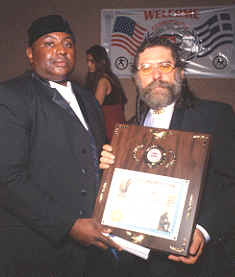 Master Jerry "The Zulu" Denson receiving his Karate Voice
Cosmopolitan Florida Hall of Fame Award from Kratios
Q: Master Katsaitis, when is the next Cosmopolitan Florida Hall of Fame Banquet?
A: The next Cosmopolitan Hall of Fame Banquet will be in December on December 7th & 8th, 2001 at the La Quinta Hotel in the Coral Springs/Fort Lauderdale area. The event will be even bigger than last year. This year's focus will be on women in the martial arts. Not for women exclusively, it's just that I want to widen the scope of things. There are many good female practitioners in the martial arts and I would like for them to be recognized and shown appreciation to. My family, the Board Members, and I are working very hard to make the Hall of Fame special for special people. The Karate Voice Cosmopolitan Florida Hall of Fame has been getting alot of exposure from different newspaper and magazines including New Jersey, Louisianna, San Diego, here local from the Miami Herald and the West Palm Beach Post and other martial arts publication as well as Sports T.V. coverage.

Q: Kratios Master Katsaitis, is there anything else you'd like to add to this report?
A: Yes, I would like to thank you for this interview and for your many years of contributions in writing for The Karate Voice. And I respect your good works in the martial arts as well.

Reporter: Thank you very much Master Katsaitis for your gracious comments and for allowing me to express my own views via your paper. It's been a pleasure and an honor knowing you and your family. May the creator continue to bless you, your family and the Board of Directors. Keep up the good work!

A:Thank you too! Erreso!

Note: I would like to add at this point that I gave Kratios Master Vasilios Katsaitis a few opportunities to say negative things about others but he is the man that only says positive and uplifting comments. When I asked him about this he said "You don't only need to be good to survive, you need to be smart too!